Schools as Cleaner Air and Cooling Centers
US Environmental Protection Agency (EPA)
Download Document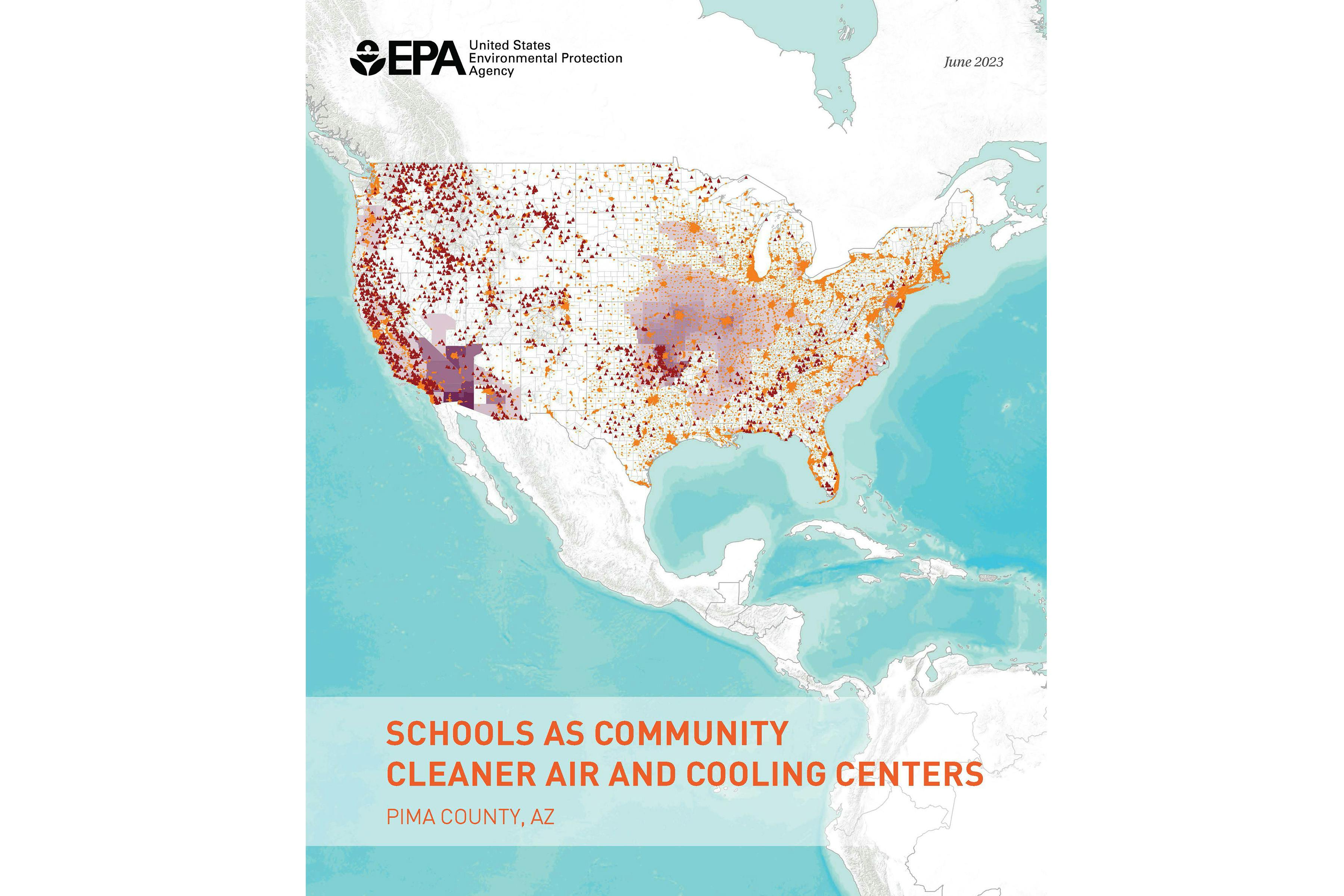 EPA engaged SMM as lead consultant, along with partner Glumac, and launched a small round of pilot projects in 2021 called Schools as Community Cleaner Air and Cooling Centers to address the combined hazards of extreme heat and wildfire smoke with a focus on spaces that serve a known vulnerable population: children. The pilots included Pima County, Arizona; Multnomah County, Oregon; and Kittitas County, Washington, and the overall project had four goals:
• Improving ventilation and filtration systems in public school facilities to reduce the risk of COVID-19 transmission and other airborne illnesses in schools.
• Creating healthy learning environments through improved indoor air quality in schools.
• Keeping schools open over the long-term in the face of increased frequency and severity of extreme heat events and wildfire smoke events.
• Creating cleaner air shelters and cooling centers located in areas known to have a higher number of people who are susceptible to serious health impacts from extreme heat and wildfire smoke.
We are helping focus attention on the priorities when we talk about vulnerabilities. There are lots of needs, but not enough resources.
The risk assessment tool used to identify potential school sites for targeting improvements utilizes multiple phases of data analysis.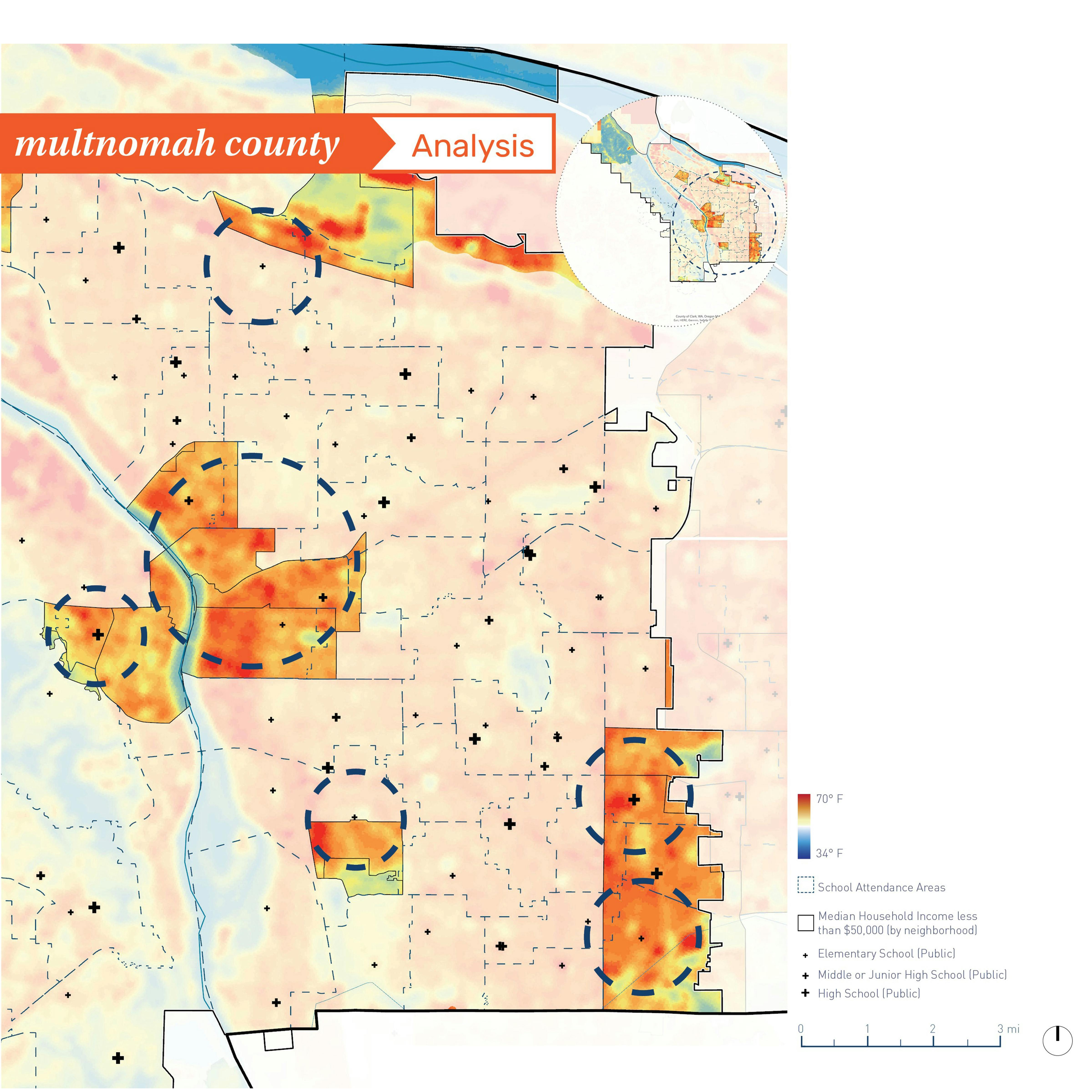 Analysis map of Multnomah County, Oregon, combining temperature, median household income and school locations and attendance.
Communities across the United States are facing the impacts of climate change, including severe health consequences from disasters like heat waves and wildfires. Extreme heat and wildfire smoke disproportionately affect people who have existing health issues, such as cardiovascular disease, or who already experience poor air quality because they live, work, or go to school near industry or highways. Children are uniquely vulnerable to extreme heat and wildfire smoke, because of their size, physiology, and factors that include playing outdoors and having less control over their environment and exposure to harm.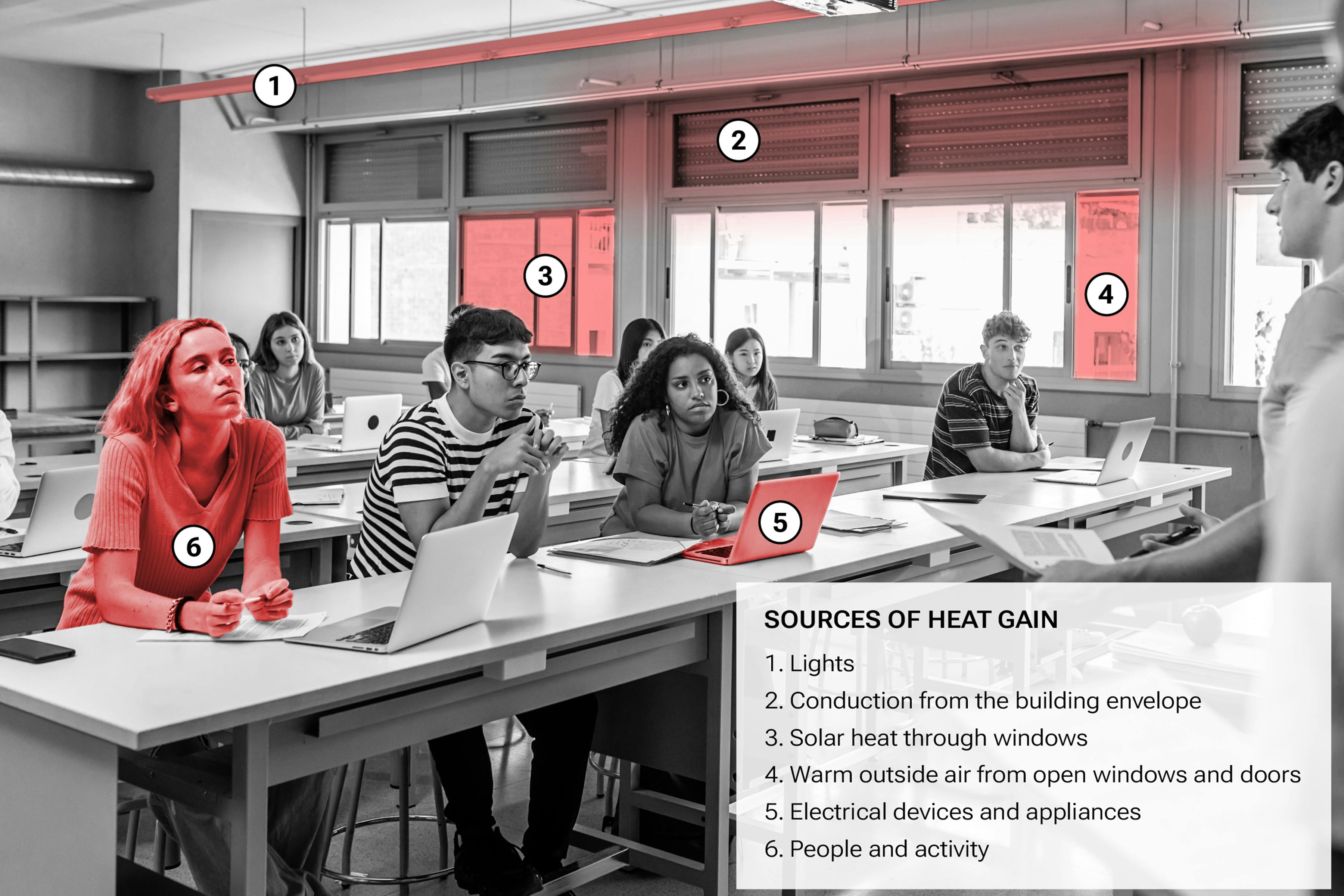 Sources of heat within a typical classroom.
Each of the partner counties, led primarily by public health agencies, found a local school district to partner with on these pilots. Most of the participating schools had already taken steps to address the first goal around COVID-19 reopening, either though portable air cleaners or more extensive upgrades to filtration within the HVAC systems. This technical assistance focused on additional steps to increase the resilience of school facilities to address wildfire smoke and extreme heat risks to students during the school day. SMM, along with EPA and Glumac, led in-person engagement sessions with key stakeholders in each community to tailor the final report for each unique region.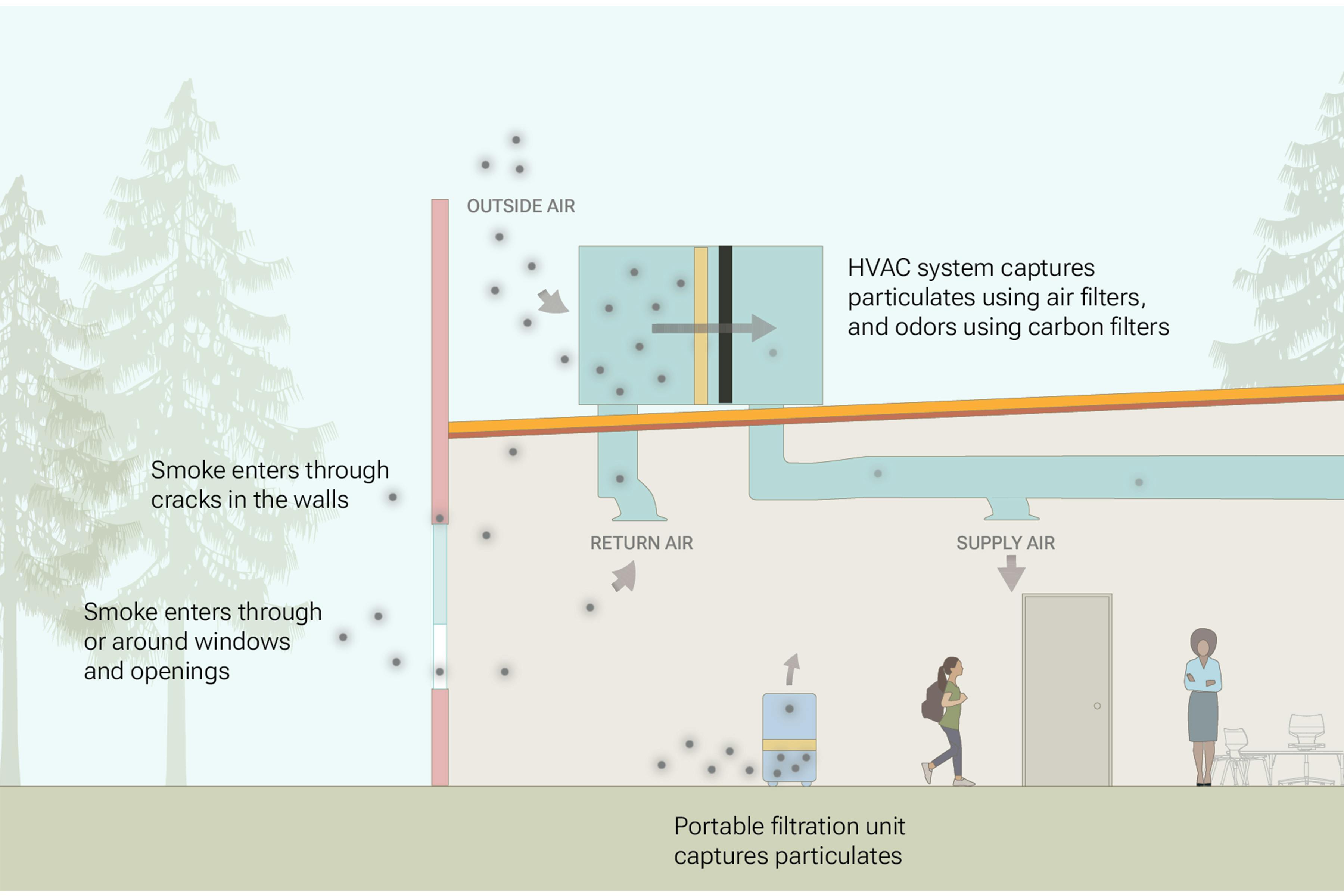 Sources of smoke infiltration during a smoke event.
The result of the engagement was a Schools as Cleaner Air and Cooling Centers Playbook for each county that provides four sections that lay out these steps; 1) The Design Condition, or potential scenarios for heat and smoke events that may help communities plan for school facility upgrades; 2) Technical Guidance for facilities upgrades; 3) Education and Outreach materials to explain the risks from heat and smoke, and ways to stay safe, both in school and at home; and 4) Additional ideas Beyond the HVAC Equipment for building a holistic approach that considers the roof, campus landscape, classroom, and even transportation to and from school.
As a final phase of the project, SMM and Glumac created National Fact Sheets, providing concise and important basic facts for different school audiences around the country: Principals and Administrators; Facilities Managers; Teachers; and Parents and Caregivers. The National Fact Sheets can be downloaded via the document link on this page.
Schools as Cleaner Air and Cooling Centers is also featured in an article Smart Climate Solution: Schools as Resilience Hubs in Landscape Architecture Magazine's The Dirt.